OPF was established under the Emigration Ordinance, 1979. It was registered on 8th July, 1979 as Not for Profit Company under the Companies Act, 1913 (now Companies Act, 2017, Section-42). It is a public sector company to be governed under Public Sector Companies (Corporate Governance) Rules, 2013 of Securities & Exchange Commission of Pakistan (SECP). The Board of Governors is supreme body and all operations of OPF are managed under overall control of the Board and policy directions from Government.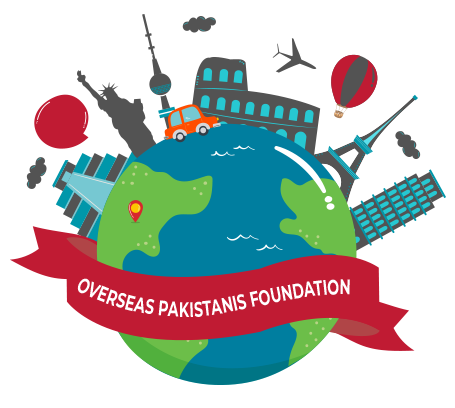 Vision
To develop OPF as a progressive, effective, dedicated, credible and professionally self-sustained organization striving for the economic and social welfare of overseas Pakistanis working or settled abroad and their families/dependents living in Pakistan and ultimately act as a one-window solution provider to all problems faced by overseas Pakistanis.
Mission
The issues faced by the overseas Pakistanis and their families are resolved in an efficient manner. OPF will make efforts to enhance the contributions of overseas Pakistanis towards the development and progress of Pakistan through their remittances, investments and technological expertise.
Board Of Governors
Dr. Muhammad Hashim Popal Zai
Federal Secretary (Chairman BOG)
M/o OPs & HRD
Dr. Amer Sheikh
Managing Director, OPF
Member (Ex-Officio)
Mr. Khalid Mehmood Raja
Member
Capt. (R) Sher Alam Mahsud
Additional Secretary, M/o Interior
Member (Ex-Officio)
Mr. Majid Ali Choudhary
Member

Additional Secretary, M/o Law, Justice & HR
Member (Ex-Officio)
Ms. Nyla Qureshi
Member

Additional Secretary (Expenditure), M/o Finance
Member (Ex-Officio)
Mr. Zulqiurnain Ali Khan
Member
Mr. Irfan Mustafa
Member

Special Secretary (Admin/A&C/OP)
Ministry of Foreign Affairs
Member (Ex-Officio)
Mr. Haaris M. Chaudhary
Member
Our Team
Mr. RIZWAN AHMED MALIK
Chief Financial Officer (CFO)
Phone: +92-51-9219123/9048461
Email:

[email protected]
Mr. RAI MUHAMMAD HAYAT
Director General (Housing & Works)
Phone: +92-51-9048409, 9219136

Mr. MAHESH KUMAR
Director General (Education/RTPR)
Phone: +92-51-9048445 / 9048492
Email:

[email protected]