NILORE OVERSEAS RESIDENCIA, PHASE-I, LETHRAR ROAD, ZONE IV, ISLAMABAD
Capital Development Authority (CDA) is presenting a golden opportunity for overseas Pakistanis to invest in an affordable housing project.
On the directions of the honorable Prime Minister of Pakistan, CDA has launched, 'Nilore Overseas Residencia, Phase-I, Lethrar Road, Zone IV, Islamabad'. This will help overseas housing issues on the one hand and will fetch precious foreign exchange for Pakistan, or the other. These are 2 Bed Apartments covering an area of 779 Sq.ft.
Due to overwhelming response of overseas Pakistanis, deadline for registration is now extended till 27th April, 2023. Computerized balloting is on 16th May, 2023.
Features:
1: No advance Tax on Foreign Remittance
2: Building structure in completion phase.
3: Waiver of first transfer fee.
4: Complete Online process
5: Payment to be made in US$ through banking channels.
It is once again requested that the information about 'CDA Nilore Overseas Residencia, Phase-I, Islamabad', may be disseminated among the Pakistani community under your area of jurisdiction, so that maximum number of overseas Pakistanis can participate and can avail this offer under extension in deadline.
Your cooperation in this regard would be appreciated.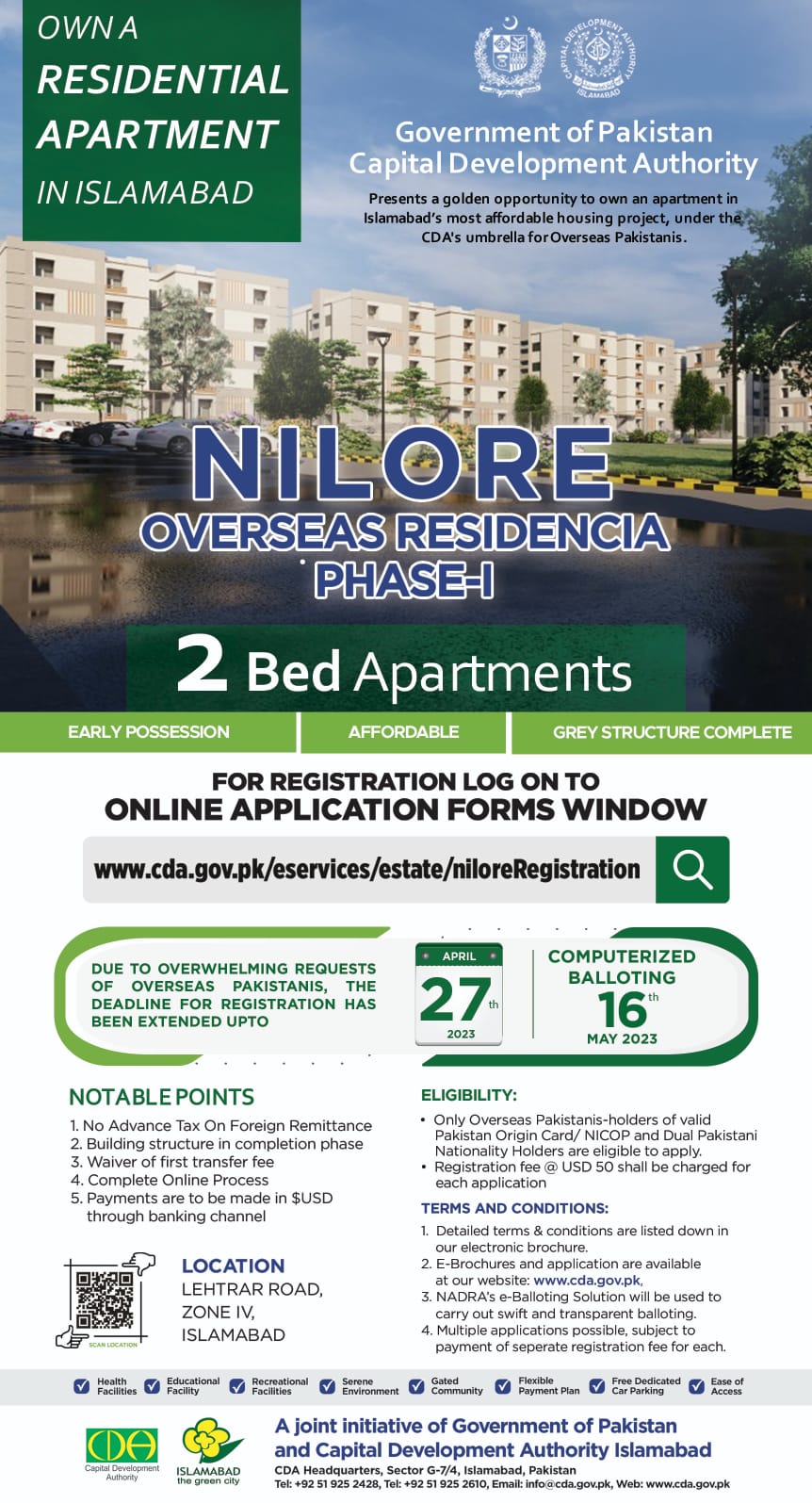 For registration overseas Pakistanis can log on to Online Application Forms Window:
Click here for Registration
CDA Headquarters, Sector G-7/4, Islamabad, Pakistan
Tel: +92 51 925 2428, Tel: +92 51 925 2610, Email: [email protected], Web: www.cda.gov.pk